Take your project from prototype to production with 3D printing services from Alcobra Metals
3D printing is an excellent solution for quickly and cheaply creating fixtures, soft jaws, as well as first articles and prototypes.
By utilizing our 3D printing services, your shop has the potential to save dramatically in terms of labor hours and material costs. Our lineup of printers also comes with a wide variety of printing materials suited for a number of applications.
3D Printing Services For Any Type Of Project
Whether you need a single prototype or a shop that can handle full production, we can bring your product to life quickly and precisely. Our custom 3D printing services include:
We offer fast turnaround times and can meet your demanding deadlines. 
Top Of The Line 3D Printers With Superior Capability
These aren't your hobbyist 3D printers. Our 3D printing capabilities are backed by industry-leading technology to meet your exacting standards. All work is done in our Spokane, WA facility and put through a rigorous quality assurance check before leaving our shop.
Working with numbers materials including:
Onyx filament with infill options
Don't see your desired material listed? Not sure which material is best for your project? We can help. Contact us now to discuss your options.
Formlabs Form 3
Build Volume: 5.70" x 5.70" x 7.28" (14.5cm x 14.5cm x 18.5cm)
Layer Thickness: .0009" – .011" (25um – 300um)
Available resins:
Draft Resin: Prints 3-4 times faster. Ideal for prototyping.
Clear Resin: Translucent resin for showcasing internal parts, lighting and fluids.
Castable Wax Resin: 20% Wax-filled photopolymer. Ideal for high resolution. Commonly used in jewelry & dental applications.
Durable Resin: High elongation and high impact strength. Smooth and glossy finish.
Tough Resin: Strong functional parts for assemblies under stress or strain.
High Temp Resin: Heat deflection temp of 460°F.
Flexible Resin: 80A Shore durometer for flexible parts with matte-black soft touch finish.
Model Resin: High precision with smooth matte surface. Ideal for approval designs, figurines & miniatures.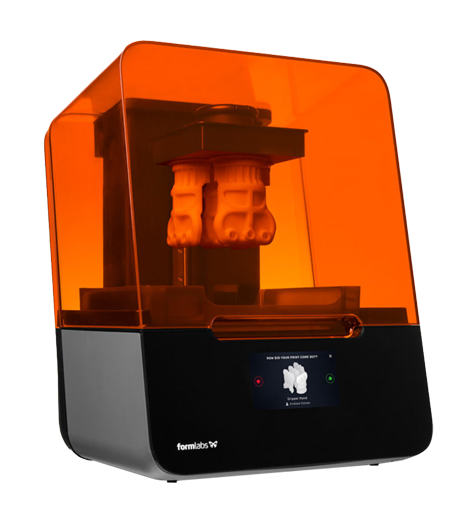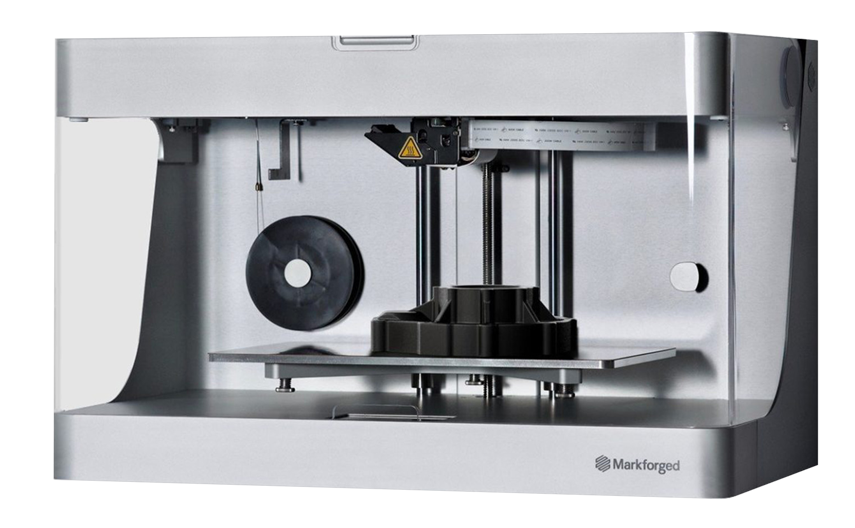 Markforged Mark Two
Build Volume: 12.60" x 5.20" x 6.06" (320mm x 132mm x 154mm)
Resolution: 100 Micron
Base Material: Onyx filament – Nylon mixed with chopped carbon fiber. High-strength, heat & chemical resistant.
Reinforcement infill materials (can be combined with Onyx): Carbon Fiber – Continuous filament for high strength performance & lightweight. 10 times the strength than Onyx alone.
Fiberglass – Continuous fiberglass filament adding 5 times the strength of Onyx alone. Less expensive than Carbon Fiber.
HHT Fiberglass – High Strength, High Temperature fiberglass filament. Designed for high temperature environments over 221°F with a heat deflection of 284°F.
Kevlar – Continuous Kevlar filament designed for abrasion resistance and impact resistance.
Sindoh 3DWOX 2X

Dual Nozzle

Build Volume: 8.9" x 7.9" x 11.8" (228 x 200 x 300mm)

Layer Thickness: .0019"-.016" (.05mm -.04mm)

Materials Available: PLA – Polylactic Acid – Easy to print, low temperature and biodegradable. Ideal for rapid prototyping and cost effective. PETG – Chemical resistant, recyclable and high strength. Flexible – High elasticity rubber and soft plastic like texture.